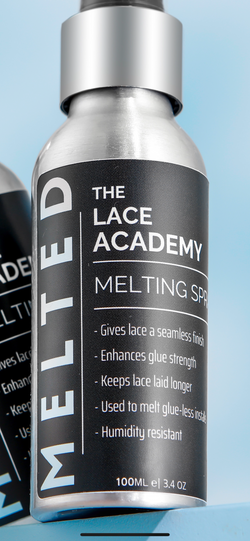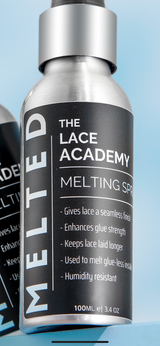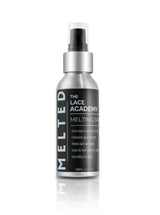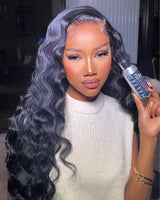 MELTED - LACE MELTING SPRAY
Get the salon experience at home with The Lace Academy's unique Lace melting spray. Created and made by us for us. 
Melts Lace- Gives lace a seamless finish. Will improve the look of any lace
Glue Enhancing- Used to strengthen your glue hold. Helps glue stay stuck down longer 
Glueless Installs - Can be used to melt glue-less installs for those that don't want to wear glue but still want their lace to look Melted. This is NOT a glue and will only melt your lace/ give a soft hold when glue is not used. 
Lace refresher- Can be used daily to make your install look fresh again. Just brush back your edges and separate your baby hair. Then spray the melting spray on the lace and wait at least 10 minutes until dry.  Can also be dabbed on baby hair to keep them in place for longer ( do not spray on your baby hair if you're going for the fluffy baby hair look).
Humidity resistant 
FOR BEST RESULTS TIE DOWN HAIR IMMEDIATELY WITH A CVH MELT BAND
* Please allow up to 5 working days for processing *
HOW TO USE
1. Once lace is applied to the head spray generously
2. Press the liquid into the lace
3. Immediately wrap hair down! Using a melt band or a silk/satin scarf
4. Wait until dry for at least 10 minutes
5. Clean up any excess product with wipes or rubbing alcohol