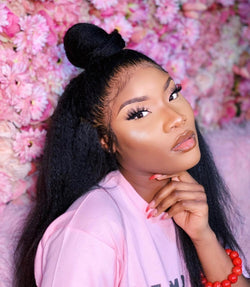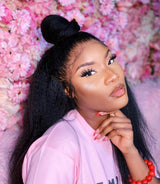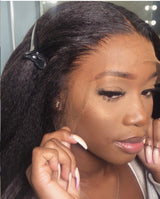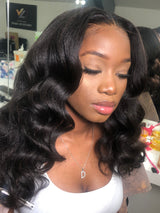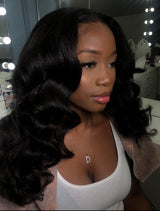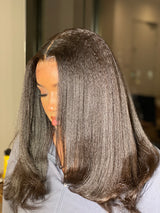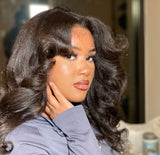 THE NATURAL BLOW OUT WIG
About
Our Gorgeous kinky straight wig, has been carefully formulated to replicate the "natural blow out" look.  We have endlessly studied this texture and have been able to mimic a very natural pattern. This wig is composed of a 13"x4" HD lace frontal or a 6x6 closure and bundles. 
 The 13x4 frontal wears 13" from ear to ear, 4" from the hairline back, and can be parted in any direction giving you unlimited styling options to create a natural finish. 
The back of the wig is all machine sewn for longevity. Includes wig combs.
You have the option of adding customisations to your new wig. Customisation includes us bleaching, plucking, trimming, and style with baby hairs- So all you have to do is cut the lace and tint to your complexion with powder or lace tint!
If you'd prefer to customise yourself of take it to your stylist that is also okay. Bleach the knots and further pluck this frontal to your liking for an even more natural look! When bleaching the knots on this frontal please do not leave unattended as the knots bleach very fast due to the high quality of the hair strands. Over bleaching may increase shedding
This wig can be straightened, curled and dyed.
PROCESSING TIME

 Is 3-4 weeks for frontal wigs . We will start creating your wig 24 hours after purchase. You have 6 hours to change or cancel your order from the time of purchase. Closure wigs will be shipped out immediately.
Hair texture~ 100% raw hair
Hair length: ~ Available in 20, 22", 24" and 26"
Wig density~ 300g-350g
Hair colour ~ available in 1b 
Customised ~Optional
Size ~ One size circumference fits 20-23
PROCESSING TIME 2-3 weeks. (closure wigs shipped out immediately)
 ALL WIG SALES ARE FINAL