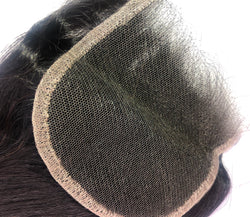 HD CLOSURES
CLOSURE ONLY
* Prices are in British Pounds by default. Please adjust the currency to your local currency for an accurate price reflection.*
Experience Chia V Hair's very own HD Illusion Lace that has redefined the industry standard of a natural-looking frontal. When applied, hair appears to grow seemingly straight from the scalp and is nearly undetectable in photos and in person. Our closures are crafted from 100% virgin Cambodian hair and are easily coloured and bleached in order to fit every individual's personal preference.
Our HD lace closures are currently available in 5 textures: Straight, Body wave, Deep Curl, loose wave and kinky straight.
Hair Care:
As our HD illusion frontals are very thin they must be treated with extra care. Clients are advised not to wear it as an everyday look to maximise its longevity.
Tip- Bleach the knots and further pluck this frontal to your liking for an even more natural look! When bleaching the knots on this frontal please do not leave unattended as the knots bleach very fast due to the high quality of the hair strands. Over bleaching may increase shedding
Lace Colour
All of our frontals are made from transparent lace. Our frontals can be very easily tinted to suit darker complexions. 
SHIPPING:
Delivery and Processing time : 7-14 days
As our frontals are not bulk created please allow 7-14 days to receive your order. A tracking number will be sent to you by email once dispatched. (This can take up to 5 days)
All orders will need to be signed for. Failure to sign for the delivery would result in the package being sent back to your local postal depot for collection.
For wholesale enquiries sales@chiavhair.com